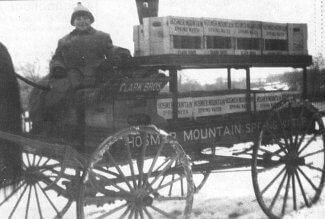 Hosmer Mountain Bottling company started back in 1912, with horse drawn wagons delivering spring water to the Mills in Willimantic. Later, Hosmer began to bottle soda. Over 100 years have passed but once again, Hosmer Mountain Spring Water is available. The spring the water comes from has changed, but the refreshing taste of good Northeastern Connecticut Spring Water is as good as ever.
Not all bottled water is alike. Hosmer Mountain Spring Water is spring water, pure, and as good as water can be! Now you can have a cooler with Hosmer Mountain Spring Water in your office or at home. Order in the usual 5 gallon bottle, or in a 3 gallon size. If you don't drink as much at home, or lifting the 5 gallon bottles is too much, this 3 gallon size is perfect.
Hosmer will rent you a cooler or you can use your own. And, Hosmer Mountain prices are unbeatable. Pick up water at Hosmer's Mountain Street salesroom, or get delivery at work or home. There are established Hosmer routes in most local areas. Call today or ask your route man about regular delivery of Hosmer Mountain Spring Water.