| Flavor | Cane Sugar | 12oz | 28oz | DIET 12OZ | DIET 28OZ |
| --- | --- | --- | --- | --- | --- |
| Orange |  * | * | * | * | * |
| Orange Dry | | * | * | – | – |
| Grape | * | * | * | – | * |
| Black Cherry | * | * | * | * | * |
| Lemon-Lime | * | * | – | – | – |
| Strawberry | * | * | – | – | – |
| Pineapple | | * | * | – | – |
| Root Beer | * | * | * | * | * |
| Birch Beer | * | * | * | – | * |
| Cream Soda | * | * | * | – | * |
| Sarsparilla | * | * | * | – | – |
| Dangerous Ginger Beer | * | * | – | – | – |
| Pink Lemonade | | * | – | – | – |
| Iced Tea | | * | – | – | – |
| Red Lightning Energy Drink | | * | – | – | – |
| Peach | | * | – | – | – |
| Chocolate Cream | | * | – | – | – |
| Cola Red | | * | * | * | * |
| Lemon Up | | * | * | – | * |
| Tonic | | * | * | – | * |
| Seltzer | | * | * | | |
| Raspberry | | – | * | | |
| Peach Seltzer | | * | – | | |
| Grapefruit Seltzer | | – | * | | |
| Tangerine Seltzer | | * | * | | |
| Lime Seltzer | | * | * | | |
| * offerings are dependent upon availability. New flavors are offered throughout the year- email or call for more info on our latest offerings and flavors not listed here! | | | | | |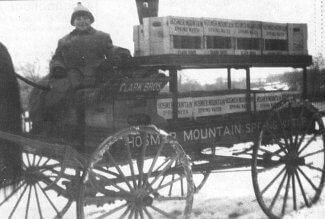 Spring Water
5 Gallon Jugs (for water coolers)
Gallons (case of 4)
1/2 Liter Bottles (case of 24)
20oz. Sport Bottles (case of 24)
---
Red Lightning Energy Drink
How is it different from RED BULL & MONSTER
Made with your health in mind
Only moderate caffeine levels, less than a can of cola
Fruit sugar  for quick energy
Contains Antioxidants

pomegranate juice
grape skin

Less calories than most energy or soft drinks
No artificial flavors
Returnable glass bottle.
A bold, pleasant pomegranate flavor.
How is it similar:
Contains all the key components including B Vitamins and Taurine
---
Soda Production
Hosmer uses only glass bottles which are purchased and sterilized before each filling in a bottling tradition that is over one hundred years old.
Soft drinks are made in two stages – Syrup is produced first and then it is blended with carbonated water to make the final product.
Syrup
Flavor extracts are carefully selected from different "extract houses." We have always felt that each company has certain flavors that are tops, so we have "shopped around" for the best flavor components over the years. We  blend and mix flavors in unique ways ourselves to create our final product. Many of our flavors go back to the early days of soft drinks- Nostalgia in a bottle!
Our Flavorist (Co-Owner Bill Potvin), brings advanced degrees and advanced taste buds to the task of crafting the truest flavors. His years of experience and experiments have set a high bar for competitors.
We now use cane sugar in many formulations including our classic New England flavors and exceptional fruit favorites. Tartness comes from fruit acids like citric and malic acid. The flavors (mostly natural and occasionally artificial) are protected with benzoate of soda. All of our products are gluten free and Kosher.
Water
We use a naturally pure source of water from a deep well. No chlorination processing is employed. Many companies use municipal water straight from the tap! At Hosmer we take pride in the quality of our well. Regular testing is done. The water is crystal clear, pure, high in naturally occurring calcium and minerals, and sodium-free.
Carbonation
Each flavor requires a different level of carbonation. Soda is carbonated by dissolving CO2 in water, which provides some additional tartness.
We use a machine called a saturater to accomplish this. Cold water is essential to produce good "Carbonic Acid" (Sparkling Water). The proportioner blends the syrup with the carbonated water at a rate of one part syrup to five parts sparkling water.
The filler gets the soft drink into the bottles which are immediately capped. Paper labels are applied soon after. Bottles are then placed into cases with the case packer and stored on wooden pallets for delivery.