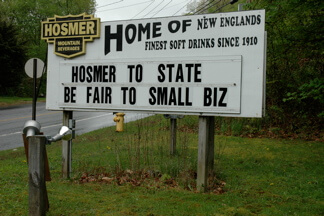 In 1912, spring water emanating from the base of Hosmer Mountain was used to establish the Hosmer Mountain Spring Bottling Works. The company has done business the old-fashioned, personal way ever since. Even today, it is still a family-owned and operated soda business.
Hosmer Mountain beverages are crafted from our own private recipes that have evolved into the best flavors anywhere. Packaged in traditional glass bottles, Hosmer soda holds its fizz far better than any brand packaged in plastic containers. All of our packaging is environmentally friendly.
Buy direct from a family-owned and operated producer. When you call us, you'll talk with a real person, oftentimes an owner. On our established home delivery routes, we personally call our customers ahead of time so that they can choose flavors and amounts each time. There are never any high-pressure sales. Returnable's are picked up each time and our customers become our friends. Sound like the good old days?
Not unlike the family farm, the Potvin family has run this business for over 48 years now. Currently, four brothers run the show and specialize in particular duties. Andy heads manufacturing, Chuck services the fleet, and the soda dispensing equipment. Bill develops soda flavors, and everybody handles soda cases and delivery routes because the customer rules… just like in the old days.
Discover what it's like to be treated with good old fashioned humanity. Welcome to Americana and the old-fashioned values and service of Hosmer Mountain Bottling Company.